Han Solo 'shot first' is now Star Wars canon according to the Kasdans
*MINOR SPOILERS* for Han Solo. Do not read if you have not seen Solo: A Star Wars Story in theaters yet! But go see it soon so that you can read this article!
Ah, the classic Star Wars question about who shot first, Greedo or Han Solo? In a recent interview, Lawrence and John Kasdan discuss their takes on this…
We all know that in the original cut of A New Hope that came out in 1977 Han Solo shot Greedo first. However, when they digitally remastered the film in later years, Lucas changed things so that Greedo shot first and Han Solo shoots and kills him in response to that.
Recently, the Kasdans, Lawrence and John, appeared on a panel moderated by Rian Johnson. The three talked about their experiences working on Star Wars films, what the future holds for them, etc.
One of the questions that came from the crowd came from a very spunky little girl somewhere in the back of the room who demanded to know whether Greedo shot first – something I think we all really want a definitive answer on.
Rian Johnson laughed and said he was going to have to get George Lucas on the phone. The Kasdans noted that the original version of the Cantina scene where Han shoots first always stuck with them.
"I was always stuck on the first version and I wanted to make a movie where it was very clear."
For those reading this article who are not bothered by spoilers and have not seen the movie, what he is referring to is that at the end of Solo: A Star Wars Story, Han Solo and Tobias Beckett are facing off and Han is the first to draw his gun and shoot Becket.
To be fair, just like with Greedo, Han Solo knew that his life was in imminent danger; if he didn't strike first, the other would have.
However, the fact that Han has this kind of character that is willing to be the first to draw, in the Kasdan's mind, makes Han shooting first now Star Wars canon!
And you know what, I accept that as well. I always wanted something to definitively point toward Han being the first shooter, and now we have it! So, thanks Kasdan brothers for finally resolving that age-old questions!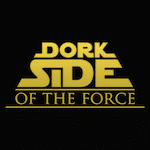 Want your voice heard? Join the Dork Side Of The Force team!
Write for us!
What about you guys? Do you think that Han shot first or Greedo? Let us know in the comments below!
Solo: A Star Wars Story is playing in theaters, worldwide.