Star Wars Resistance animated series character details revealed
Some new information has surfaced about the new anime style animated series, Star Wars Resistance, that will debut in the fall…
We don't have a whole lot of information about the upcoming animated series Star Wars Resistance. What we know so far is that it will be in the years before the events of Star Wars: The Force Awakens.
The action will center on a young Resistance pilot named Kazuda Xiono who has been recruited to spy on the First Order. We also know that the film will feature appearances by Poe Dameron and Phasma, as Oscar Isaac and Gwendolyn Christie have been confirmed as voice actors in the series.
Now, thanks to a recent interview with Jim Rash, who is best known for his role as Dean Craig Pelton the TV show Community, that revealed a little bit about the characters that he and Bobby Moynihan (known for being an SNL cast member) will be playing in the series.
Apparently, the two actors will be portraying quartermasters in charge of dispersing Resistant equipment to members of the Resistance. Jim Rash will apparently be the voice of an alien.
The interviewer asked Rash whether it was killing him that he wasn't allowed to talk about the details of Star War Resistance. In response, he said he doesn't know a whole lot about the show.
Other than seeing some early animation, he mostly just pops in with Moynihan to do their scenes, and there is a lot of action that goes on in between that they know very little about.
It's not surprising that Dave Filoni is keeping all this hush, hush. He loves to keep fans guessing! Thankfully, we don't have to wait much longer to learn more about the show as Star Wars Resistance will be airing on the Disney Channel in the fall.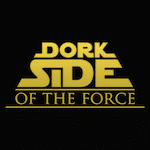 Want your voice heard? Join the Dork Side Of The Force team!
Write for us!
So, are you all excited to see another Star Wars animated series created by Dave Filoni? Let us know in the comments below!