Rian Johnson's Star Wars trilogy is still happening despite the haters
Despite much hate received in response to Star Wars: The Last Jedi, the trilogy of Rian Johnson is still happening. Sorry, haters…
Hate him or love him, Rian Johnson is not going anywhere, even after the catalyst for splitting the Star Wars fandom in two. Honestly, it was much needed, and some people need to move on from the Star Wars franchise and embrace something you enjoy instead.
Ram Bergman, who helped Rian Johson and Lucasfilm produce Star Wars: The Last Jedi, recently attended the Israel Film Festival in sunny Southern California, among the stars in Los Angeles.
His purpose for attending was to present the "ham" and "trickster," Mark Hamill (himself) with an "Achievement in Film Award," but while he was there, revealed a few things regarding the Star Wars trilogy of his friend Rian Johnson to FromtheGrapevine.com.
After rumors and speculation that Lucasfilm/Disney would cancel his Star Wars trilogy, it appears that it's still a go. Sorry, haters.
As stated previously, the trilogy will focus on brand-new Star Wars characters, providing a story without any connection to the Skywalker legacy.
Rian Johnson will indeed produce all three movies, and Bergman confirms again that it's in the (very) early stages of development — where at the earliest, production for film numero uno would likely begin about two years from now.
After working in Israel for his film A Tale of Love and Darkness, Bergman (and Rian Johnson) stated they would love to film the first Star Wars film in the Middle East.
Honestly, I'm glad that Rian Johnson did not give into fear, which leads to the ultimate destinations of the Dark Side and destruction.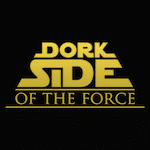 Want your voice heard? Join the Dork Side Of The Force team!
Write for us!
I'm excited to see where Rian Johnson takes the Star Wars franchise after his boldness making Star Wars: The Last Jedi — the best Star Wars film since The Empire Strikes Back. That's right, I said it!
For those of you hoping Rian Johnson and Kathleen Kennedy would go away, it appears the opposite is true, which is great for the Star Wars franchise moving forward. We could use a little more guts, inclusion, and stories that challenge the status quo.